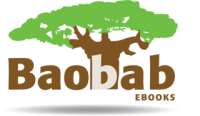 For general information about Baobab Ebooks, please contact:
sales@baobab-ebooks.com
Please also visit the Baobab website - www.baobab-ebooks.com
For sales enquiries, please contact:
Julian Russ

Baobab Ebooks is an ebook solution for your library. It provides a user friendly, comprehensive ebook platform offering a catalogue of over 350,000 ebooks from renowned international and African publishers, together with our research bundles of free ebooks from NGOs and open access publishers.
Our customers asked for easy integration with library management systems and access to multiple publishers without the need for numerous platforms, multiple contractual arrangements and multiple logins. This is exactly what our solution provides.
There is NO PLATFORM FEE and institutions have free access to our research bundles of open access content. This gives institutions the opportunity to build their own ebook libraries.
The Baobab platform - based on Koha - enables discoverability, lending and the return of ebooks from the Baobab catalogue. Titles can be borrowed for a pre-determined period and returned via the platform.
Incorporating over 30 years of experience in supplying African universities with educational resources, Baobab - a joint venture between Mallory International Ltd and Tula Publishing Ltd - is aware that each institution is different and no one solution fits all. Baobab offers libraries flexibility and agile solutions to meet the ever-changing resource environment.
Benefits to libraries
An excellent opportunity to build institution's own tailored and bespoke eBook library collections.
Cost-effective solutions - with no platform fee, and bulk discount if purchasing through the consortium, Baobab offers discounted prices on subject bundles it has negotiated with over 70 publishers.
Institutional users are able search on one platform for all their eligible eBooks - thereby assisting students and faculty members speedy and efficient research and borrowing.
Universities can buy eBooks from our catalogue of over 350,000 titles.
Broadest range of subjects covering every academic discipline.
Unlimited access to the Baobab FREE research bundles.
Personalised training workshops, online resources, and marketing materials provided.
Reports to enable analysis of the usage rates.
Local support and initial face-to-face training.
Content
Baobab offers different types of content. Ebooks can be purchased as part of a bundle, on a pick-and-choose model, or as a print/ebooks pack.
Baobab subject bundles:
Curated bundles of front list ebooks from renowned international and African publishers.
Additional subject bundles can be curated to meet the individual institution's curriculum requirements.
Perpetual access basis.
Special discount negotiated with publishers.
Unlimited user access pricing models.
Additional discount as more institutions purchase bundles.
Introductory subject bundles of 50 core titles.
Advanced subject bundles of a further 100 core titles.
Online catalogue of each bundle's holding.
Institutions can change up to 10% of the titles within the Introductory bundle from a pool of titles.
Institutions can purchase additional titles to add to their subject bundles.
Subjects: Africa studies, agriculture and food science, business, chemical engineering, computer science, education and behavioural science, general engineering, humanities, journalism/communication, law, life sciences, mechanical engineering, medicine, nursing, pharmacy, physical science, religious education, veterinary science and vocational education.
Pick-and-choose option
This model allows the librarian to select individual titles from the whole catalogue. The chosen titles will be made available to libraries on a perpetual access basis, so that a permanent individual collection can be built. The university can either purchase one copy or multiple copies of commercial eBook titles.
Baobab will supply the MARC records for the licensed materials.
To be able to purchase individual titles each university library user needs to have a username and password that Baobab will set up (various set-up methods available). Purchased titles will be downloadable to the e-reader of choice (e.g. Adobe Digital Editions).
Textbook offering
Being aware of the cost of some textbooks, Baobab has curated a collection of open access textbooks which is made freely available to any institution.
Baobab is also able to offer institutions ebook versions of commercial publishers' textbooks on a case by case basis.
We can also offer universities a seamless integration to their learning management systems.
Training and support
Baobab is aware how essential training and support is in the provision of electronic resources. Through our network of representatives and training partners, we can offer institutions:
Assistance in setting up access to Baobab.
Comprehensive on-line training manual.
Email templates for librarians to share with their users.
Condensed user-guides.
Online video tutorials.
Zoom training sessions.